Shipments and returns
Items Delivery
We offer free delivery of ships and other items to your personal hangar space in a station and solar system of your choice. The only requirement is that your chosen solar system has security 0.5 or higher.
We will create an in-game contract for your character within 24 hours from the moment we have received and accepted your payment. To receive the items, simply accept the contract and collect the items in your personal hangar space at the station specified in the contract. This would be the station you specified in order comment, assuming the security level of the solar system in question is 0.5 or higher.

Normally we deliver within a few hours, but on rare occassions the delivery may take up to 48 hours, and if that's the case we will notify you with an ETA and you can also expect a nice compensation for delay.
The delivery time varies depending on distance to your solar system and the number of orders we are currently processing. The size of the single order has neglectable impact on delivery time. This means that you get more value for your time and money by placing bigger orders.
We understand the value of your Eve Online time and that is why we will deliver the items to your station of choice. We can not guarantee delivery to all solar systems but as long as security is 0.5 or higher we will get your goods straight to your location.
Contract system: step by step
To accept a contract, you have to login to the game with your character and access the contract menu. Please see the pictures below.

Click on the "Contract" button on the left hand side in game.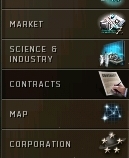 This will bring up the Contracts start page.

Click on contracts assigned to your character. You will be presented with a list of contract(s) assigned to your character.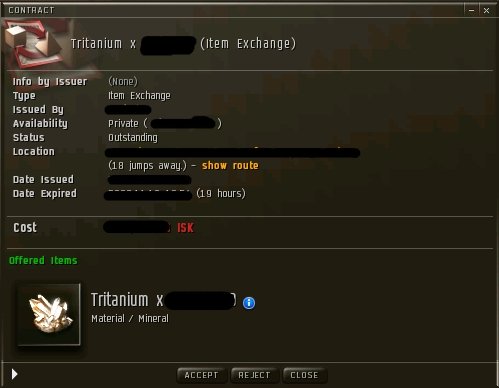 Click on contract. As soon as the contract is accepted, the items will appear in your personal hangar space at the station stated under "Location" in the contract window.
Your accepted contract items can also be viewed via the "Assets" button on the left hand side in the game.

Please note: For security reasons you may have to pay a small sum of ISK to accept contract.
ISKs Delivery
For security reasons we have a different delivery method for ISK. We will make a contract for minerals or other items of a value equivalent to the ISK. You simply accept this contract and travel to Jita 4-4 Navy Assemble Plant in order to collect the items. Then sell the items for ISK on the market in Jita.
Return and Cancellation Policy
If you are unhappy with your order, you can get payment refunded or product exchanged for something of equivalent value in our shop. However, there are two conditions:
You must contact us within 24 hours of delivery.

The product must be returned to us in the same condition it was received. For example, we do not accept damaged ships.
In case we have failed to deliver order within 48 hours you may also request a refund or exchange it for something else. Please observe that you will be charged a 10% restocking fee in case you want a refund for an order that has already been shipped in full.